Back to Events
Fireside Chat: Sneak Peek @ Hasbro's Women Innovators of Play Event
Thursday, August 31, 2023
Event Details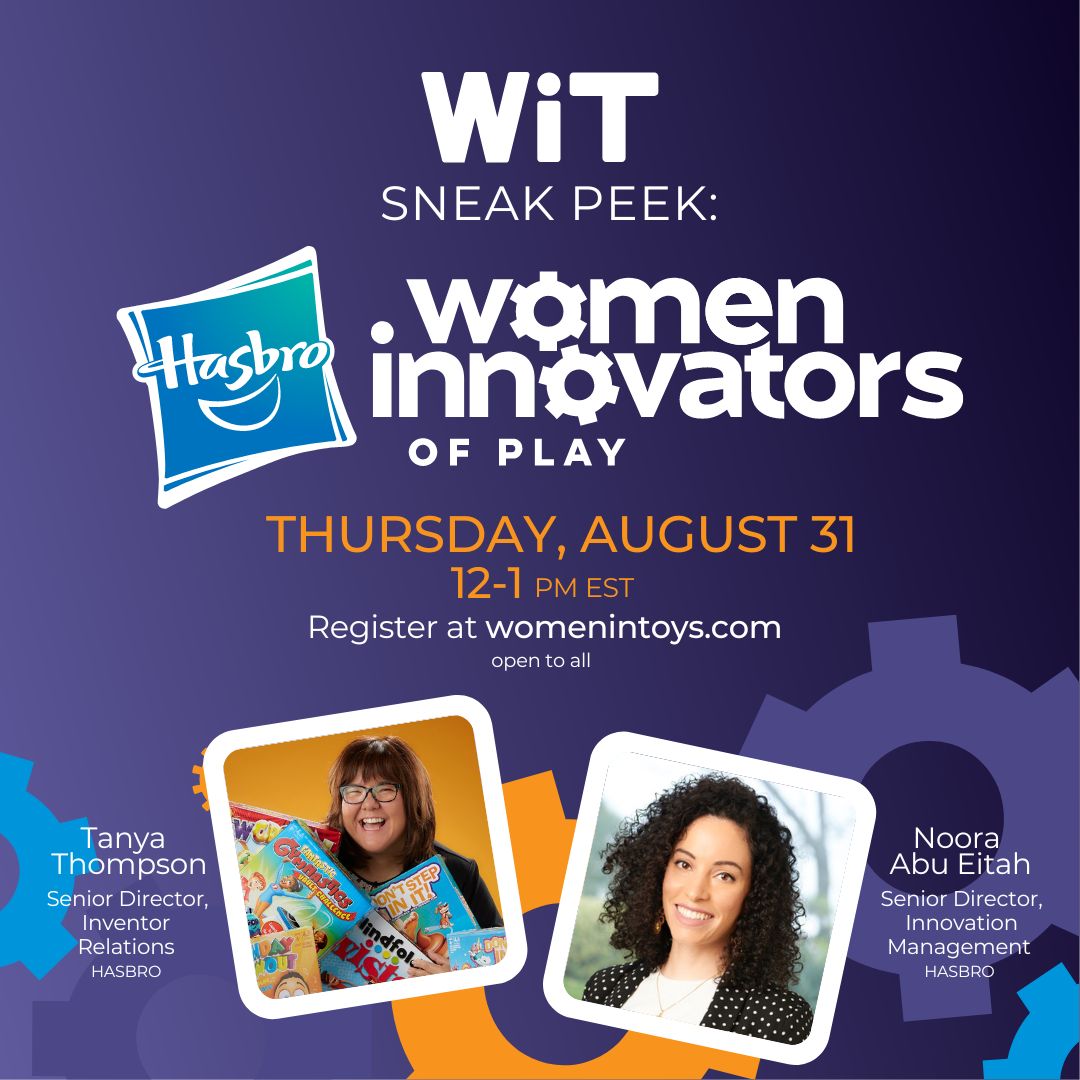 DATE: Thursday, August 31, 2023
TIME: 12:00 - 1:00 PM EST
COST: Free! Open to all!
Join us for a WiT-exclusive fireside chat with Hasbro's Tanya Thompson, Sr. Director of Inventor Relations, and Noora Abu Eitah, Sr. Director of Innovation Management, as they unveil Hasbro's upcoming groundbreaking initiative, "Women Innovators of Play."
Hasbro's Women Innovators of Play is a virtual global event on September 12th from 10am – 12:30pm ET centered on women's leadership, women innovators, and women-led creativity. Attendees can expect a dynamic program that includes networking, insightful panels, and engaging presentations from prominent women leaders. Participants will also learn more about the process of both pitching a new toy or game – and the journey of a product through the Hasbro pipeline. Join Hasbro in this unprecedented opportunity to connect with and learn from women innovators.
ABOUT THE PRESENTERS
Tanya Thompson — Senior Director Inventor Relations and External Innovation, Hasbro Gaming

Tanya Thompson has over 16 years of toy and game experience and is now the Senior Director of Inventor Relations and External Innovation for Hasbro Gaming. Previously Tanya has led Inventor Relations, Product Development and Product Sourcing for companies like ThinkFun, Marbles the Brain Store and Mastermind Toys. Her passion is connecting with people, sourcing ideas and playing board games and mechanical puzzles. Tanya is an avid supporter of inventors and has partnered closely with many to bring hits to market like Gravity Maze, Clue Escape Series, Connect 4 Spin, Sun Moon Rising and Twister Air to name a few. She is honored to be the included in the Mojo Nation Top 100 list of most influential people in the toy and game industry for the last five years, the 2023 I.D.I.O.T. award which stands for International Designer and Inventor of Toys given to only one luminary each year who have made outstanding contributions to the toy industry, the United Inventors Association Inspire Top 100 list, the Mojo Nation Play Creators' Inventor Relations Executive of the Year and most recently she was nominated for the Women In Toys' Wonder Women of the Year Award in Out Licensing. Her proudest accomplishment is raising three beautiful children with her husband Chris!
Noora Abu Eitah - Senior Director, Innovation Management at Hasbro

As the Senior Director, Innovation Management at Hasbro, Noora Abu Eitah has deep experience in leading innovation management and programming. In 2008, and as the first employee of Secret Location, a Hasbro company, Noora led projects that evolved with the technology, innovated on how we use different digital platforms to tell stories, and shaped the way Secret Location produced cross platform projects. She built the team of passionate creators and produced high profile interactive projects for ad agencies, entertainment producers and broadcasters that tap into the latest web, mobile, 360 video and VR technology. In 2017, she took my experience in content production and moved into the company's product team and launched apps for the National Geographic, Discovery Channel, The New York Times, and HTC. In 2021, she managed the app development of one of Hasbro's key revolutionary projects, Hasbro Selfie Series, and played a key role in releasing it to the market. She became part of Hasbro's innovation team, leading its innovation management process and program planning for other exciting initiatives that take the future of play to next level, keeping the fans at the core of the design.