Back to Events
Who Am I? How Celebrating Authenticity Leads to Innovation.
Tuesday, February 28, 2023
Event Details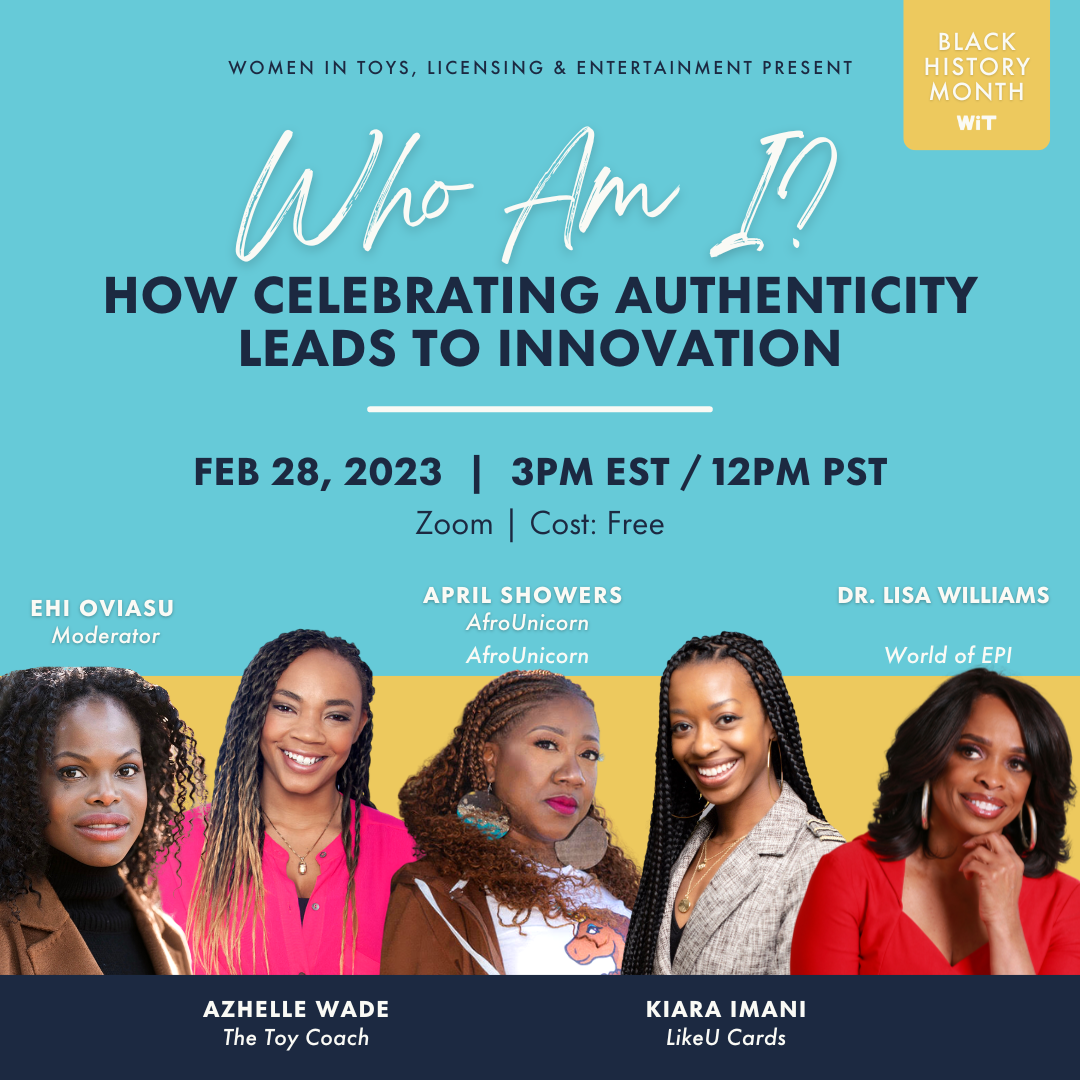 Women in Toys, Licensing and Entertainment presents "Who Am I? How Celebrating Authenticity Leads to Innovation." This panel discussion features four dynamic Black women inventors, innovators and entrepreneurs who will share how tapping into their identities and history yielded the insights, perspective and creative spark that has led to their success.
Panelists:
Azhelle Wade, The Toy Coach
April Showers, AfroUnicorn
Kiara Imani, LikeU Cards
Dr. Lisa Williams, World of EPI
Kiara Imani, LikeU Cards
Kiara Imani is an attorney, author of the book Therapy Isn't Just For White People, and the co-founder of LikeU Cards, a getting-to-know-you card game that facilitates human connection and meaningful conversation.
Kiara is also on the Associate Board of Directors for Free Wheel Chair Mission, a non-profit organization providing wheelchairs for people with disabilities in developing nations, and on the Board of Directors for Women in Toys, a non-profit organization that champions and advocates for women in the toy industry.
Kiara graduated from the University of Virginia School of Law, and received her bachelor's degree from the University of Virginia in 2011 with a major in political science, specifically focusing on politics in the media.
Azhelle Wade, The Toy Coach
Azhelle's been having way too much fun in the toy industry over the past 12+ years working for companies like Toys R Us, Party City, and Madame Alexander, just to name a few! She's climbed up and across the ladder in the toy world, starting out as a designer, later gaining 3 toy patents, and eventually becoming a VP at a toy company.
But, after building and mentoring a diverse and talented team toward success, she had the vision to do the same with newcomers to the toy industry. With that thought, Azhelle combined her industry knowledge, inspirational mantras, and extra passionate toy talks to create the now highly rated toy podcast, Making It In The Toy Industry.
Today Azhelle is known industry-wide as The Toy Coach. She joyfully works as a consultant for popular IP's and toy companies of all sizes. Her online course, Toy Creators Academy empowers newbies in the toy industry with step-by-step guidance, downloadable worksheets, and group coaching.
Azhelle's mantra for her followers is, make it toyetic!


April Showers, AfroUnicorn
Entrepreneur, innovator, and founder April Showers is the creator of Afro Unicorn®, a fully licensed character amplifying representation for women and children of color to celebrate how magical, unique, and divine they truly are. When Afro Unicorn creator April Showers realized that her favorite emoji—the unicorn!—was only available in white, she was inspired to create a more inclusive, conscious brand.
Shattering the glass ceiling, trailblazer Ms. Showers is the first Black woman to own a fully licensed character brand with a presence in seven major retailers across the United States and Canada with 25 categories, from apparel and accessories to toys, puzzles, books, bedding, backpacks, collectibles, and an original Afro Unicorn Holiday EP.
Children will soon be able to live and play in a world of Afro Unicorn with plushies, collectibles, games, puzzles, books, playsets, ride-ons, outdoor play, and live animation in the works. A new line of six original Afro Unicorn® books under the Random House Books for Young Readers imprint will be released widely in fall 2023, featuring three Afro Unicorn characters by name across all Afro Unicorn® products.
Ms. Showers is a prolific public speaker, and ABC News Good Morning America 3: What You Need To Know and CBS Mornings created segments on Afro Unicorn®. Oprah Daily, Viola Davis, Sherri Shepherd, Alicia Keys, and Tina Knowles are all early believers. Ms. Showers hopes her success is the "blueprint" to empower and inspire fellow entrepreneurs to enter the licensing space with 45 + licensee partners worldwide.
Dr. Lisa Williams, World of EPI
Dr. Lisa Williams is an academic trailblazer. She is the first African American to receive a doctorate in Supply Chain Management from The Ohio State University, the first female professor to receive a multi-million dollar endowed chair and the first African American professor to earn tenure at Penn State University. She is first to become the highest-ranking person in her field of logistics, was the holder of two multi-million dollar endowments for her research, served on President Clinton's Commission on Critical Infrastructure, and has garnered numerous teaching awards for her work in supply chain and logistics, with her research published in multiple journals.
Dr. Lisa did the unthinkable when she left her high-ranking academic life to blaze a new trail as an entrepreneur. In 2003, she founded the World of EPI, growing the company into a multi-million dollar powerhouse. Through multiple doll lines, she creates unique sculpts that has earned a reputation for creating authentic representation to help children see their true beauty and brilliance.
Dr. Lisa has been honored with multiple awards, including Walmart's Supplier of the Year Award, Rising Star- Licensee/Manufacturer 2022 WiT Wonder Women Award, and TOTY 2022 Doll of the Year Winner for Marvel's Black Panther: Wakanda Forever Fresh Fierce Collection, which is a true testament to her unwavering commitment to create truly exquisite representations of strong, powerful Black women for children everywhere. Her Fresh Dolls were even selected as one of Oprah's Favorite Things!