Back to Events
WiT Webinar: Herding Your Mental Cats: Time Management for Work & Wellbeing
Tuesday, May 30, 2023
Event Details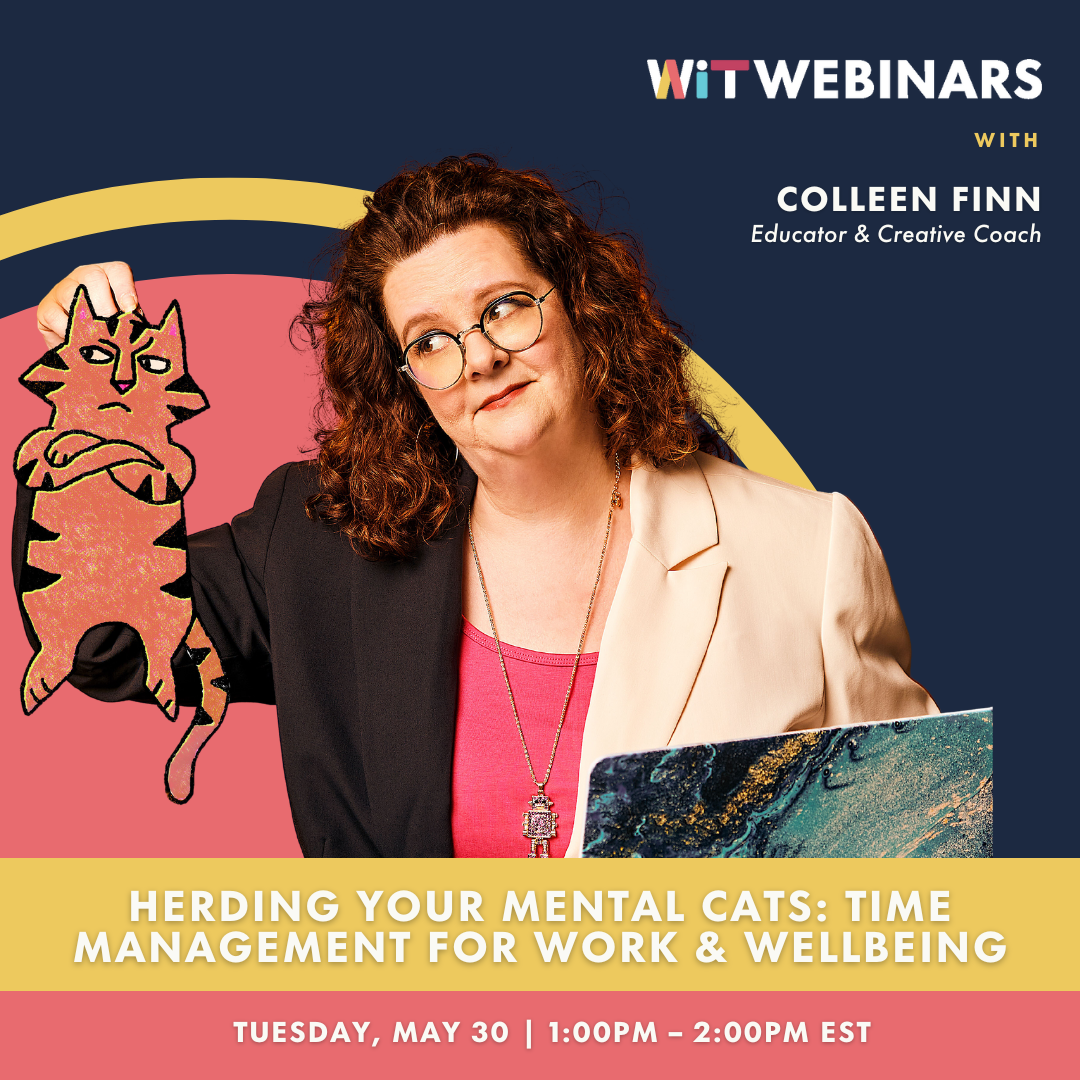 About the Presenter
Colleen Finn
Over the past 30 years, Colleen Finn has proven she's an archetypal Renaissance woman. She has been successful in multiple careers, many of which she juggles simultaneously: Business Owner. Architect. Professor. Certified Life Coach. Creative Director. Graphic Designer. Illustrator. Swimming Instructor. Board Member.
And she has done all of this while confronting bipolar disease head on.
In 2022, combining her professional accomplishments with the realities of neurodivergence, Colleen formed GDS: Mental Wellbeing for the Creative Mind, a new division of Green Dog Studio. GDS is a platform through which Colleen shares her experience as a practicing creative and bipolar with fellow creatives. From her years of personal experience and counseling others, Colleen knows the unique challenges posed by the creative mind. In her inimitable and highly effective style, she has developed lessons and tools proven to help tame the "mental tigers" that can distract, frustrate and paralyze creatives, enabling them to take charge.
DATE: Tuesday, May 30, 2023
TIME: 1:00 - 2:00 PM EST
COST: MEMBERS: This Webinar is free for WIT members. | NON-MEMBERS: The non-member fee for this Webinar is $29.
In this seminar, Colleen presents a proven method through which creatives learn to take control of their time, plan their deliverables, and meet timelines. In each step, Colleen includes key learnings, tips and tricks culled from her years of using and teaching this approach. The bottom line: It works. Creatives take charge of their time, reduce stress, increase productivity and deliver great work on time.
Master the 5 key ingredients for successful Time Management

Keep interruptions from throwing you off schedule

Increase your focus and make the most out of "free" time

Learn how having control over your time is a benefit not only for your job but also your wellbeing