Back to Events
WiT Webinar: Navigating Negotiations: How to Ask For (and Get) More
Tuesday, August 29, 2023
Event Details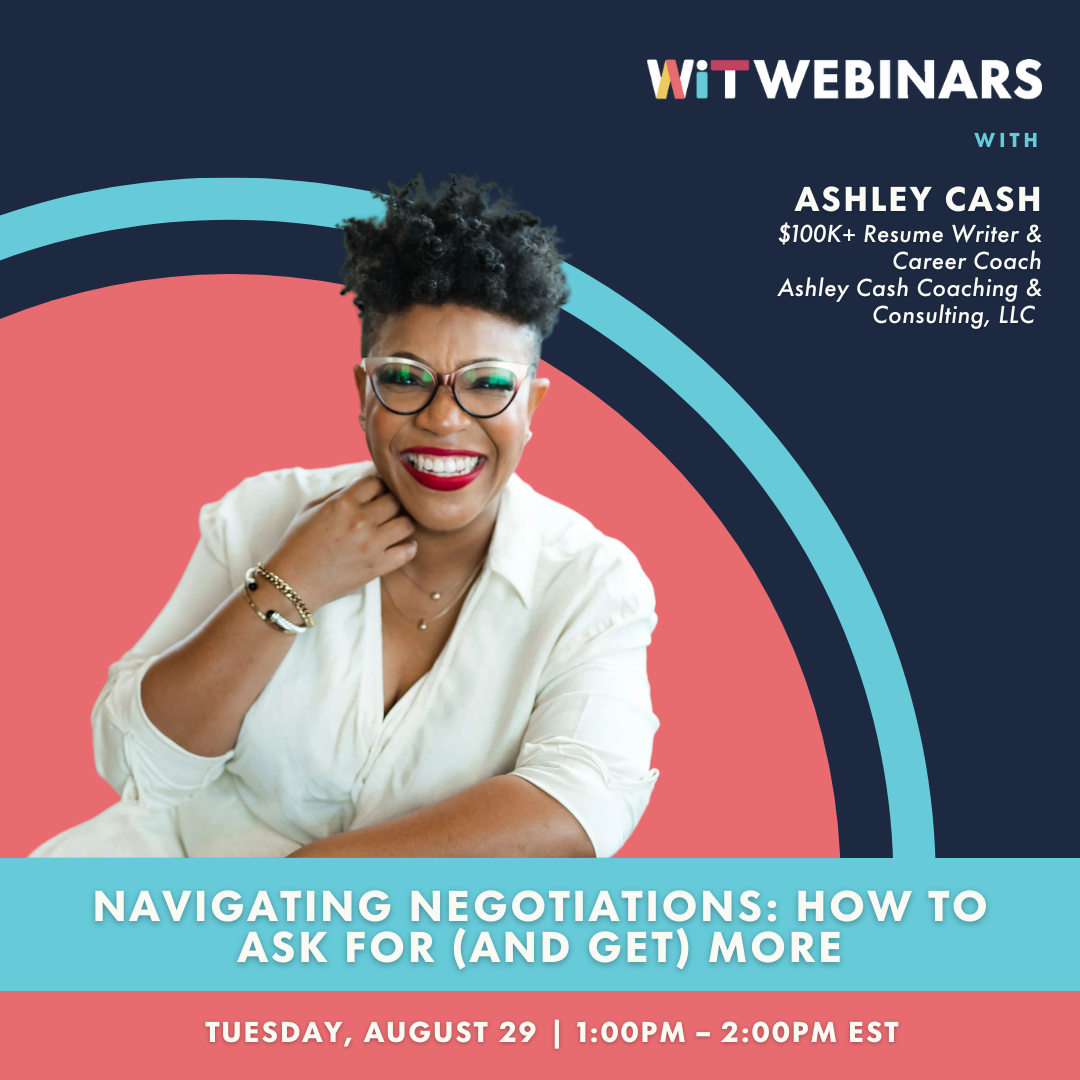 DATE: Tuesday, August 29, 2023
TIME: 1:00 - 2:00 PM EST
COST: MEMBERS: This Webinar is free for WIT members. | NON-MEMBERS: The non-member fee for this Webinar is $29.
Does negotiating make you more nervous than a toddler with a Sharpie? Have you ever regretted not asking for more? If so, join Ashley Cash, $100K+ resume writer and salary negotiation expert, for this salary negotiation webinar.
Whether you are preparing to negotiate your salary, a game-changing deal for your business, or a discount with your cell phone provider, you'll walk away more prepared, less nervous, and more comfortable at the negotiating table.
About the Presenter
Ashley Cash
Ashley Cash Coaching & Consulting, LLC
Ashley Cash is a career corporate girl, working mom, $100K+ resume writer, and hiring manager turned interview + salary negotiation coach (whew!).
She's a smiley, yet scrappy coach + consultant gifted in storytelling and connection. After a 14-year career with Whirlpool, Coca-Cola, and Globe Life, Ashley writes resumes for professionals seeking $100K+ roles and facilitates action-inspiring career development workshops.
Ashley lives in Dallas, TX. She loves coffee, cooking, and thrifting. Add her on LinkedIn!
You'll learn:
How to get up the nerve to negotiate even if you are shy or have never done it before
The #1 mindset shift you need to ask for (and get) more
What else you can negotiate besides money
Ways to use your new negotiation skills in your everyday life