Back to Events
Rejoué: French Pioneer of the Circular Economy of Toys
Tuesday, April 25, 2023
10:00 AM - 10:30 AM (EDT)
Event Details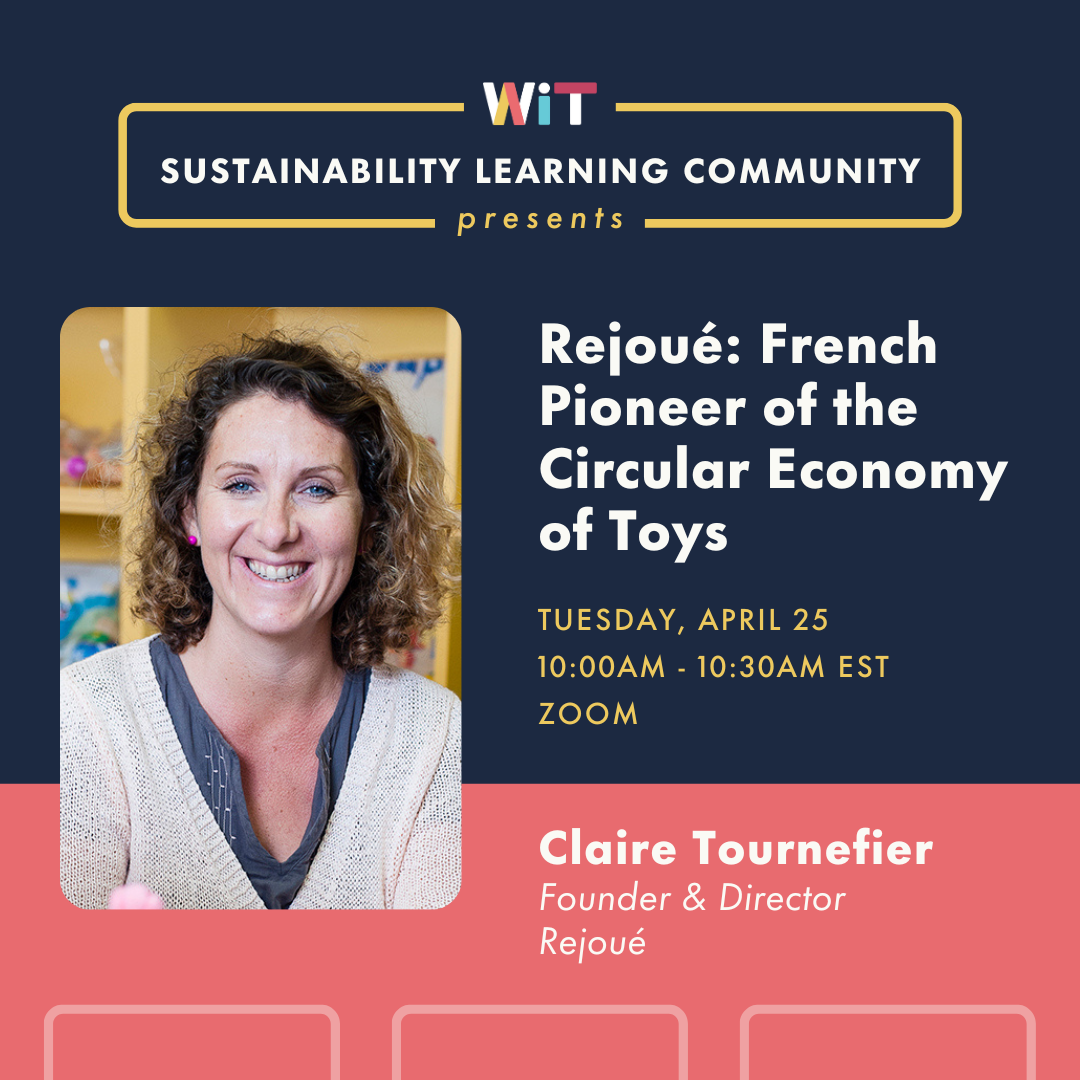 Brought to WiT by the Sustainability Learning Community, join founder and director of non-profit organization, Rejoué, Claire Tournefier as she shares the story behind the organization and her mission to create a more sustainable, circular economy. With the understanding of the market in France, Claire will share the impacts the organization has had in the country, as well as the anticipated growth.
Claire Tournefier is the founder and director of the non-profit organization Rejoué since 2010. The Rejoué non-profit organization is an organization that gives a second life to toys while supporting long-term unemployed people to get back to employment (through upskilling, personal & professional counseling). Since its foundation, the Rejoué team has enabled more than 450 people to find autonomy and a job, 66% of whom are women. Rejoué has refurbished more than 348,000 toys (out of 377 long tons collected). In order to accelerate the ecological and social transition, Claire is spreading her model in France, tutoring project leaders and federating 6 similar non-profit organizations within the Rejouons Solidaire network, created in 2021.
Ambassador of the circular economy roadmap to the French Ministry of Ecological Transition in 2018, she influenced the creation of an Extended Producer Responsibility on toys (EPR toys), a new environmental policy embedded in the 2020 anti-waste and circular economy law in France. Her major victories include: the opening of public markets to second-hand toys, the recognition of specialized toy reuse structures and the fact that recognized organizations specialized in toys refurbishment can benefit from doubled financial support within the framework of the creation of a Reuse Fund financed by manufacturers, distributors via their eco-organization.
A very pragmatic impact entrepreneur and changemaker, Claire is above all looking for human and local solutions, and for this reason she favors all meetings and cooperation between professional worlds that are often far apart.